Welcome to Inspired Word Ministries

Our prayer for you is that the blessings of God will overtake you and your family. May the Authority of the Holy Spirit lead you and guide you that you may understand the truth of the Word Of God. We pray that every season of your life will be blessed, and no season will become an illusion in your life.
Prophetess Tina and I pray that your home will be a Kingdom reflection of the Love and peace of God. We bless your children, marriage, home and ministry. We pray that the divine love of God be upon everything that you do. There will be no financial lack in your home, we pray for God given Kingdom surplus in your life. Thank you for your prayers and support for this ministry, God bless you.


-Apostle Steven and Tina Anders

"BECOMING A NATION ONE CITY AT A TIME'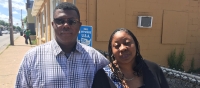 Headquarters Inspired Word Ministries
Inspired Word Ministries
3410 W Burleigh Street
Milwaukee, WI 53210
t. 507-481-3595
HOST A PROPHETIC WORKSHOP IN YOUR AREA
Hear the Voice of the Lord with accuracy to minister effectively in this Kingdom time. The Voice of The Kingdom Prophetic Institute is geared with Kingdom enriched teaching that will help every believer to grow in their prophetic calling. These prophetic classes will provide Kingdom insight, deeper revelation and will help you to walk in divine dominion authority. If you are interested in hosting The Voice of The Kingdom Workshops in your area contact Inspired Word Ministries at iwm3410@gmail.com requesting dates, time, location and representatives will be in touch
Join Inspired Word Ministries in The Prophetic Movement
Join us each Saturday in Elkhart Indiana @ 1 pm 411 Brady Street and Sunday at 12 noon 3410 West Burleigh Street Milwaukee Wisconsin for Apostolic Prophetic training at, Inspired Word Ministries. These Prophetic classes are intended to bring kingdom believers into a comprehension of the Apostolic Move of God in the Church today. These powerful teachings are intended to engage, challenge and extend their initiative capacities so people can lead and administer God's way in their scope of authority. These Saturday training classes is intended for all authority levels from starting church pioneers to prepared senior pioneers.
Inspired Word Network
Posted: April 29
http://www.ustream.tv/channel/wvug9DmXaCY come and check it out!
ustream.tv
We're an International Apostolic-Prophetic Ministry committed to principles of the kingdom of God operating here on earth. Our goal is to fully activate saints for ministry Evangelizing the World with the gospel of Christ in Word and Deed, in Demonstrating Christ's Wisdom, Power, Dominion, and Faith...
Posted: April 29
Inspired Word Milwaukee
Posted: April 27
Inspired Word Lip Sync CAST YOUR VOTES J SQUAD OR PETTY SQUAD